08 Apr 2021
Stimulating conversations with headline speakers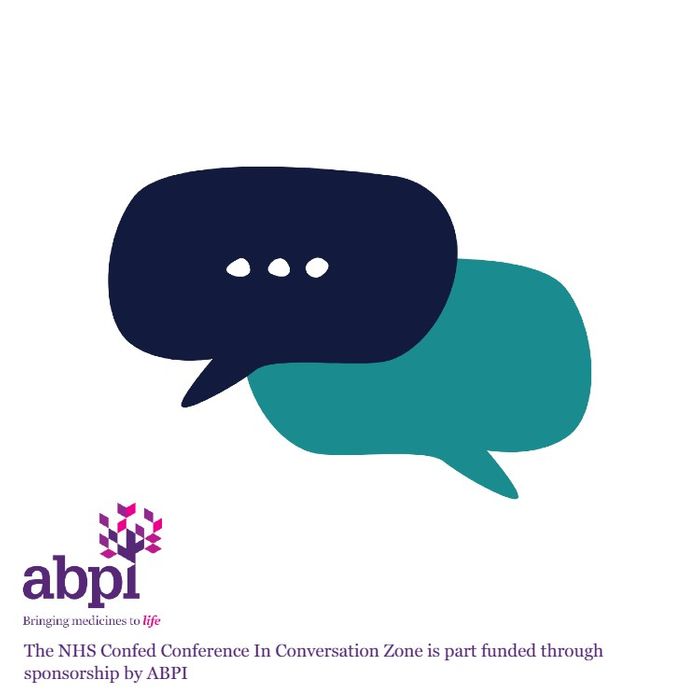 In Conversation with…
The event may be online, but delegates can still expect quality conversations and lively discussions associated with the NHS Confed Conference. Dialogs spotlighting hot subjects including sustainability, inclusivity in clinical trials and addressing the balance of health inequalities will take place over the three days. Delegates will need to make sure they head over to the In Conversation Zone supported by Association of the British Pharmaceutical (ABPI) as voices from across the health and care sector will provide insight and spicy debate on a breath of topics.
As part of the In Conversation Zone, delegates will also be able to hear about the work undertaken by ABPI and the NHS Confederation as we 'deep dive' into key findings. The analysis will include assessing local and regional approaches to health inequalities, with a focus on diabetes, cancer and respiratory conditions. Hear stimulating conversations and explore examples of how, at organisation and system level, industry can contribute to the delivery of the NHS Long Term Plan and inclusive economic development.
Headline speakers
We're thrilled to welcome Dr David Feinberg to the digital mainstage. An ambassador for caring for people's health and wellbeing, the VP of Google Health is sure to provide a fascinating perspective on system integration and the possibilities of digital invention to enhance the future of health and care. Hear more from Dr David Feinberg and the impressive work Google Health are doing in this interview.
Also from across the pond is Intermountain Healthcare president and chief executive officer, Dr Marc Harrison. Dr Marc Harrison is a national and international thought leader on transformation and innovation—ranking in Fortune Magazine's Top 50 World's Greatest Leaders in 2019. He also ranked second among Modern Healthcare's Most Influential Physician Executives and Leaders and tied for second on its list of the 100 Most Influential People in Healthcare in 2018. A key activist for the American #AllInUT campaign, Dr Marc Harrison is not only an inspiring leader, but his contribution will provide an invaluable international perspective on issues such as clinical and quality improvement, and population health management.
Also speaking at the conference is the NHS Confederation's director of policy and co-chair of the Health and Care LGBTQ+ Leaders Network Dr Layla McCay. Dr Layla McCay may be a familiar face to many having made regular appearances on BBC's Question Time in the past 12 months. Having been at the forefront of coordinating the organisation's response to COVID-19, Dr Layla McCay has firsthand experience hearing from and supporting our members during these unprecedented times and will be a valuable addition to our speaker line-up. Here Dr Layla McCay reflects on the past year.
Join over 1,500 senior health professionals who have already signed up to the NHS Confed Conference and be inspired by stimulating conversation.